RITPL Monitor
Tracking, Alerts and Events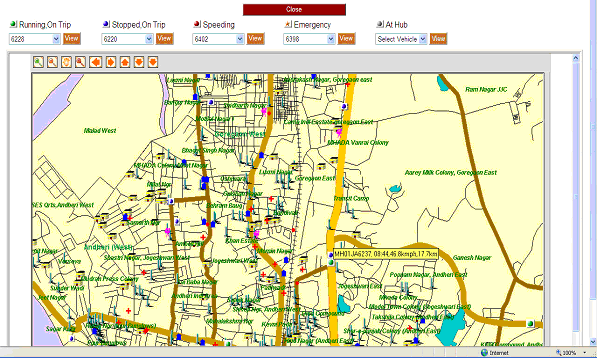 The RITPL Monitor is a web based, secured access service which essentially integrates the operation of the vehicle hardware and the application front end, running on a remotely hosted server. The movement of any vehicle on the roads, along with any events (like pick, drop, break etc.) or Alerts (like Panic, Speed violation, No-show etc.) are captured as time and position tagged records on-line by the GPRS communication channel. All normal time tagged position records as well as event records are suitably stored and shown on live (GIS) map along with plan deviations and alert records. The reports include complete analysis possibilities including distance traveled, plan non-conformances, route deviations etc. This application is specially tailored for people movement requirements of ready and on-line information about multi vehicle fleets and MIS information base for transport vendor management and is fully integrated with other up-stream and down-stream application packages within RITPL People suite.
Advanced Device Integration
On-line Aggregated Tracking View
On-line Individual View
Post-Trip Views
Integration with Planning Software
Security Messaging
Scare-Away and Cordless Panic Button
MIS and Post Mortems
Over-the-air Programming and Data Security
Falcom Germany, Model FOX
| | |
| --- | --- |
| Each vehicle to be monitored will be provided with this unit comprising of the functionalities of GPS/GSM/GPRS and the MCU controlling the components along with back-up data memory of seven days data. This globally established brand having huge number of installations in the advanced markets abroad can offer the robustness and reliability along with functional versatility and flexibility, demanded by challenging Indian markets. | |
High Sensitivity GPS

Three Axes Motion Sensor

Automotive Temperature Range

IP 65 Enclosure

Dynamic RITPL-Fencing Feature

Multiple Channels of Communication

Direct I/O Capability

Internal Rechargeable Battery Back-up

Flexible Firmware Environment

World Class Manufacturing

Local Value Addition
Cordless Panic Button

Wired / Cordless Speaker Mic Unit

RFID Security / Passenger Authentication

Scare-away Flasher/ Siren

Intelligent MMI
Planning and Deployment
This advanced application package has been designed uniquely for the Indian requirement of home transportation service for professional white collar employees in dynamic BPO/ IT industries. It has been developed based on painstaking and arduous research and observations in actual field conditions for years, and possibly the first package to claim completeness in functionalities to handle the dynamic environments faced. The use of latest GIS and spatial database based design will not only ensure virtual automation of an area of operation demanding great manpower and efforts, but also will go a long way in drastically cutting costs, improving safety and enhancing employee satisfaction.
Multiple Data Sources

Fully Automatic, Tunable Optimizer

Time-of-the-day Traffic Speed Profiler

RITPL graphical Zoning

Vehicle Zoning

Process or People Category Zoning

Multi-capacity Vehicles Optimizer

Back-to-Back Trip Planning

No Female Last-drop or First-pick (NFLF) and Escorted-trip

Self Help for RITPL code Master

Automatic Passenger Information System

MIS and Billing sub-system

Enterprise System Model

Dynamic Map Maintenance
RITPL provides a range of services ranging from web and user experience design to development, testing and rollout with a proven track record.
1.
Business Needs Analysis and Consultancy
2.
Technology Evaluation
3.
Solution Design and Architecture

| | |
| --- | --- |
| a | Solution Design and Modeling |
| b | Web and User Interface Design |
| c | Solution Development, Testing and Rollout |

4.
Solution Lifecycle Maintenance and Enhancement